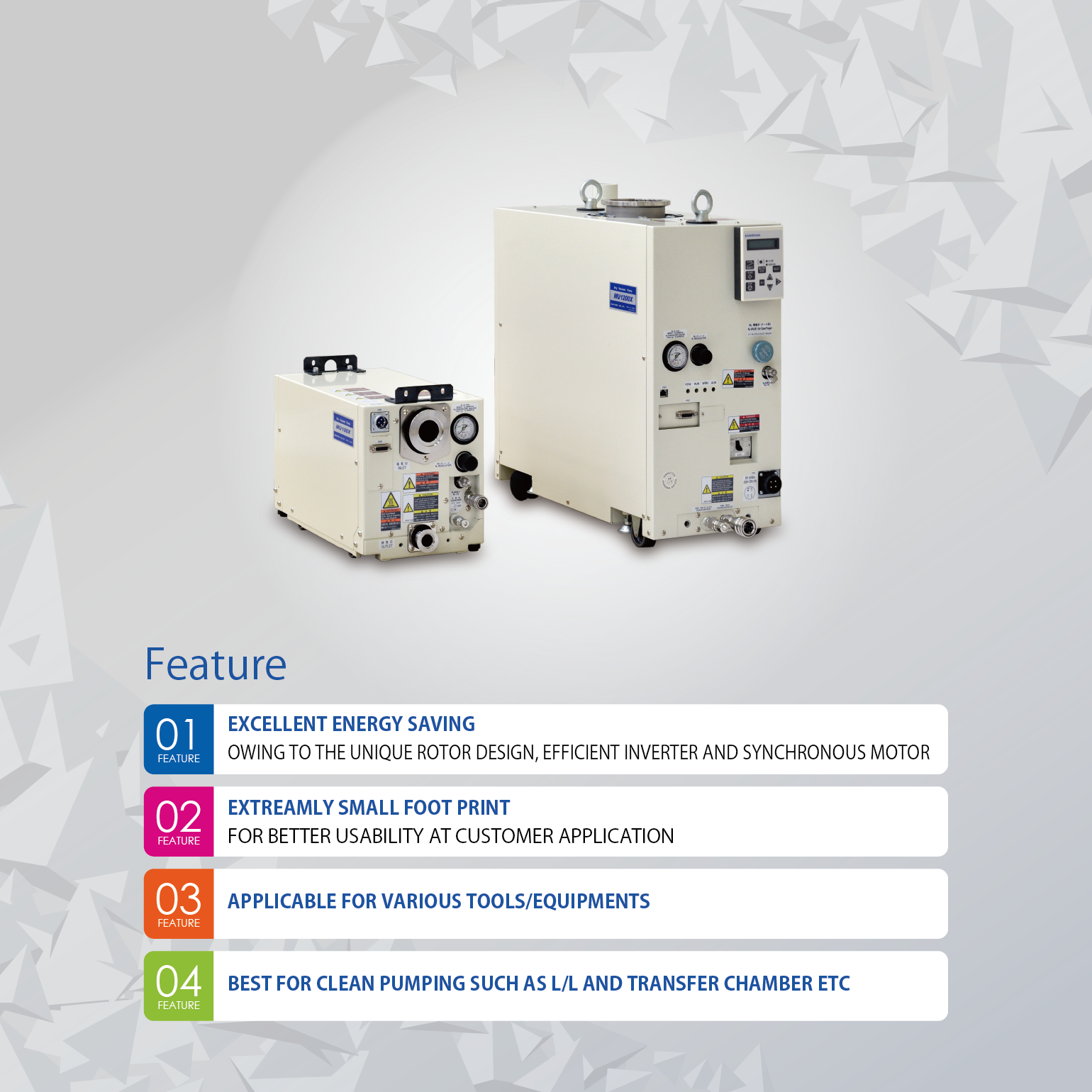 Major Products
Spec. / Model
MU100GX
200V model: available
400V model: available
MU180GX
200V model: available
400V model: (1H '20)
MU300GX
200V model: available
400V model: available
MU600GX
200V model: available
400V model: available
MU1200GX
200V model: available
400V model: (1H '20)
Max. pumping speed *1
100m3/h
(1,660L/min)
180m3/h
(3,000L/min)
300m3/h
(5,000L/min)
600m3/h
(10,000L/min)
1,200m3/h
(20,000L/min)
Ultimate pressure *1
0.015mbar
(1.5Pa)
0.005mbar
(0.5Pa)
Supply voltage
(50/60Hz)
200V model
400V model
3Phase, AC200~240V *2
3Phase, AC380~440V *2
Cooling water [L/min]
1.5≧
2.0≧
Power consumption [kW] *3
0.35
0.5
0.55
0.6
0.7
Weight [kg]
200V model
400V model
60
65
95
(100)
100
125
120
125
165
(170)
Inlet size
NW50
NW80
NW100
Outlet size
W25
NW40
Dimensions [mm]
W×H×L *4
200V model
400V model
230×275×450
230×345×450
280×300×550
(280×350×580)
230×520×450
230×575×530
230×520×530
230×575×530
275×580×625
(275×635×680)
Safety standard
CE Marking
*1) Without N2 purge. *2) Contact us for other voltage options. *3) Approx. value at ultimate pressure. *4) Net size.
* Spec. & name of products are subject to change without prior notice.
* Contact us about large capacity pumps.
Please contact us for more information about specifications except standard models listed on this catalog.
S-P Curve