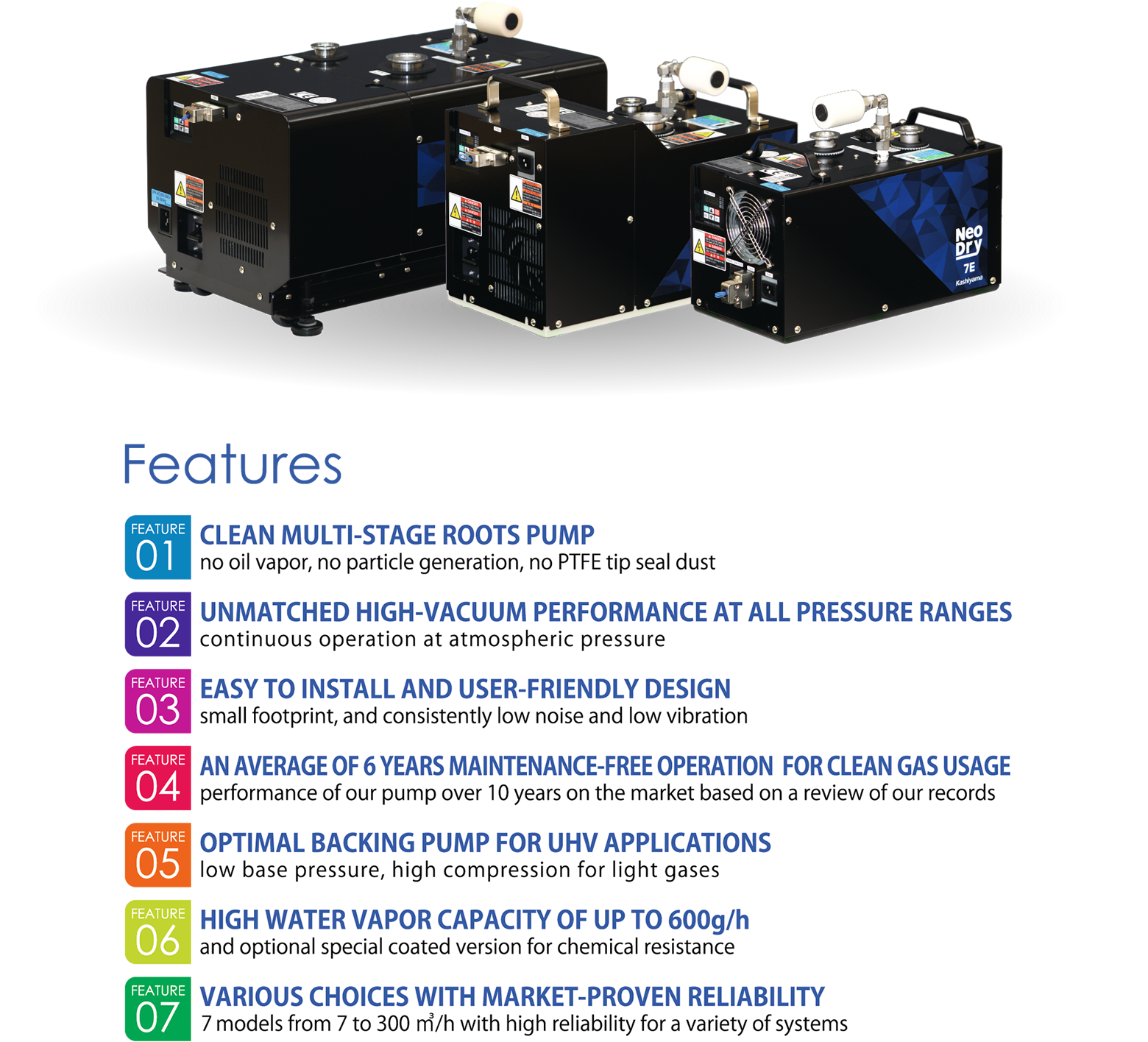 Major Products
Spec. / Model
NeoDry7E
NeoDry15E
NeoDry30E
NeoDry36E
NeoDry60E
NeoDry300E
Max. pumping speed
7m3/h
(110L/min)
15m3/h
(250L/min)
30m3/h
(500L/min)
36m3/h
(600L/min)
60m3/h
(1,000L/min)
300m3/h
(5,000L/min)
Ultimate pressure
(Without gas ballast)
0.05mbar
(5.0Pa)
0.01mbar
(1.0Pa)
0.003mbar
(0.3Pa)
Supply voltage
(50/60Hz) *1

Single Phase, AC200~240V

Gas ballast mechanism
Standard accessory
Power Connector *2
IEC 60320-C14
IEC-60320-C20
Contact Us
Max allowable moisture [g/h]
(With gas ballast)
120
250
350
600
Noise [dB(A)]
(Inlet closed) *3
≦56
≦58
≦60
≦72
Vibration [μmp-p]
(Inlet closed)
≦8
Weight [kg]
19
23
25
54
56
125
Inlet size
NW25
NW40
NW50
Outlet size
NW25
Dimensions [mm]
W×H×L *4
196×219×360
210×250×385
210×250×410
298×275×475
315×275×530
304×575×574
Safety standard
CE Marking, NRTL(UL 61010-1, CAN/CSA C22.2 No.61010-1)
*1) Contact us for other voltage options. *2) Please contact us for other connectors.
*3) This is based on JIS standard, please contact us about some date based on ISO. *4) Net size.
* Spec. & name of products are subject to change without prior notice.
Please contact us for more information about specifications except standard models listed on this catalog.
Application Examples
Pumps for solvent/H2 evacuation also lined-up.
Contact us about combination with Turbo or Mechanical booster.
Science
Accelerator
Beam Line
Glove Boxes
Microbiology
Space Application
TMP Forepump etc:
Analytics Instruments
Leak Detection
Low Temparture Analysis
Mass Spectrograph
RGA
Scanning Electron Microscope
Transmisson Electron Microscope etc:
Coating Technology
Chemical Vapore Deposition
Optical Coating
Physical Vapore Deposition
Plasma Cleaning
Sputter deposition
Thermal Process etc:
General Industry
Air Conditioning Evacuation
Battery Electrode Drying
Freeze Dryer
Solvent Pumping
Vacuum Pumping
Vapor Pumping etc:
S-P Curve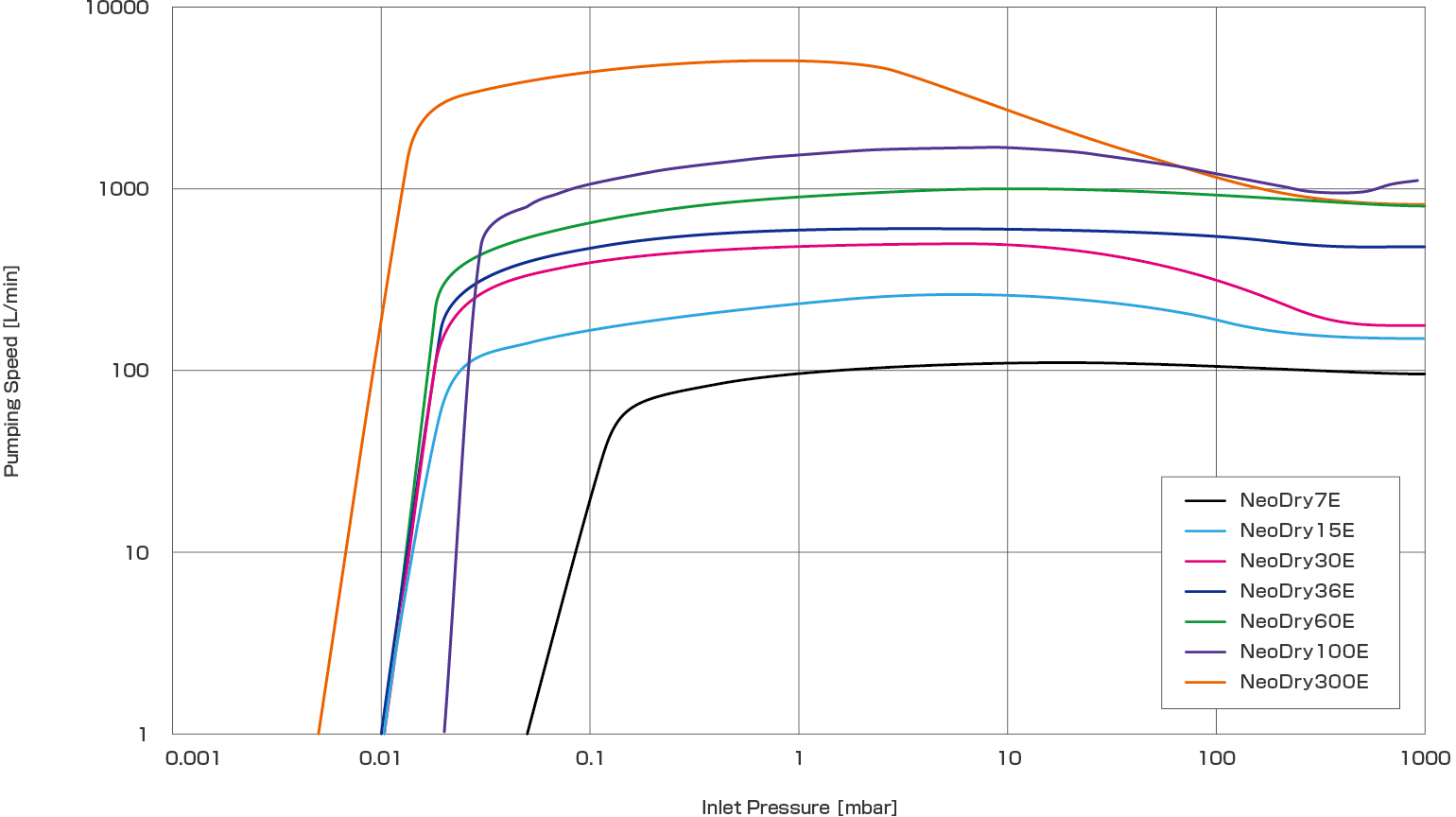 * S-P curves vary by combination.
Because we are constantly working to improve performance and upgrade our products, specifications and diagrammatic representations in this catalog may change without notice.
Products displayed in this catalog must be approved for export in accordance with the Foreign Exchange and Foreign Trade Control Act. Before placing an export order, please contact our Business Department.
Please contact me anytime you have questions.
Contact Us